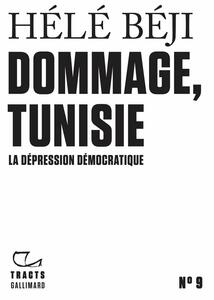 Tracts (N°9) - Dommage, Tunisie
La dépression démocratique
Hélé Béji
«Une expérience beaucoup plus cruelle que celle du colonialisme nous attend, celle de la guerre impitoyable avec notre vie sauvage. Ce qui n'avait pas été assimilé par la domination coloniale ne l'a pas été par la modernité nationale, ni par la Révolution, ni par la démocratie. L'islamisme armé vient nous rappeler que le travail ne fait que commencer, et qu'en réalité, nous l'avons esquivé.» Hélé Béji La Révolution tunisienne de 2011, née du sentiment de dignité et de justice d'un peuple, fut celle de la spontanéité. Elle a aussi ouvert une voie alternative à l'ingérence démocratique occidentale, aux accents de nouvelle croisade, qui n'a fait que raviver dramatiquement l'islamisme radical. Mais qu'a fait la Tunisie de ce grand moment de son histoire ? Neuf ans après, au cœur d'une crise politique et sociale aiguë, Hélé Béji dresse le constat d'un échec, qui dépasse les frontières de la seule Tunisie. Comment sortir de cette dépression politique, si ce n'est par la constitution d'une société qui, trouvant en elle-même une réponse à l'obscurantisme, restaure la dignité de l'homme ?
Book details
Publisher

Language

Original language

Publication date

Page count

Theme

Collection

Series
About the author
Hélé Béji
Agrégée de lettres modernes, Hélé Béji est une essayiste tunisienne, fondatrice du collège international de Tunis, radiée de l'université en 1987, fille de Mondher Ben Ammar, ministre en charge de réformes sociales majeures après l'indépendance.
Reviews
No reviews have been written for this book.