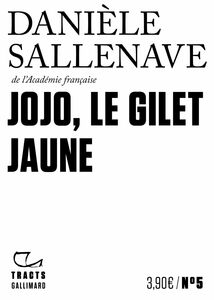 «Il y a ce que disent les Gilets jaunes. Il y a surtout ce qu'ils révèlent. Cette manière de parler d'eux, dans la presse, les médias, les milieux politiques, sur les réseaux sociaux ! Une distance, une condescendance, un mépris.» Danèle Sallenave
Au miroir du mouvement des Gilets jaunes, l'élite politique, intellectuelle, culturelle a laissé voir son vrai visage. Début janvier 2019, le président promet d'éviter ces «petites phrases» qui risquent d'être mal interprétées, mais il rechute aussitôt. Les médias ne devraient pas, dit-il, donner sur leurs antennes «autant de place à Jojo le Gilet jaune qu'à un ministre». Ainsi se révèlent l'étendue et la profondeur de la fracture qui sépare les «élites» des «gens d'en bas». Fracture géographique, économique, politique et sociale. Et surtout fracture culturelle, entre les habitants des grandes villes, et tous les autres. La violence et les embardées de langage de quelques-uns ont jeté le discrédit sur les Gilets jaunes. Il ne faudrait pas qu'une élite, assurée de sa légitimité, en tire argument pour occulter la force d'un mouvement qui a fait entendre une exigence de justice et d'égalité, parfois confuse, mais toujours profondément démocratique. Retrouvant ainsi l'inspiration des grands sursauts populaires qui ont marqué notre histoire.
Book details
Publisher

Language

Original language

Publication date

Page count

Theme

Collection

Series
About the author
Danièle Sallenave
Danièle Sallenave est l'auteur d'une trentaine de romans, récits, essais et pièces de théâtre. Elle a été élue le 7 avril 2011 à l'Académie française. Très engagée dans la promotion de la lecture auprès des jeunes, elle a fondé et anime l'association «Silence, on lit!».
Reviews
No reviews have been written for this book.