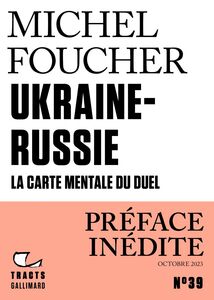 Tracts (N°39) - Ukraine-Russie. La carte mentale du duel
Michel Foucher
« L'Ukraine est vue de Moscou comme la pièce essentielle d'un dispositif de protection à contrôler ou, au mieux, à neutraliser.» Arpentant les contrées d'Europe médiane et orientale depuis une trentaine d'années, le géographe et diplomate Michel Foucher, spécialiste des frontières géopolitiques, analyse le confit russo-ukrainien en mettant au jour la cartographie mentale – historique, politique, territoriale et identitaire – du duel qui oppose les deux nations suite à l'agression fratricide lancée par Vladimir Poutine. Cette cartographie entre Baltique et mer Noire, étendue par ses causes et ses effets à l'Europe entière, porte l'empreinte d'une confrontation entre un passé qui ne veut pas passer – celui de la Russie, comme puissance autocratique et impériale – à un futur qui ne semble devoir naître que dans la résistance et la souffrance, celui de l'Ukraine comme État-nation souverain « inclinant vers le monde euroatlantique » (Havel). Un duel qui affecte gravement l'état du monde et dont le déroulement et l'issue nous concernent tous.
Book details
Publisher

Language

Original language

Publication date

Page count

Theme

Collection

Series
About the author
Michel Foucher
Géographe et diplomate, Michel Foucher a enseigné la géopolitique appliquée à l'École normale supérieure. Derniers ouvrages parus : «Arpenter le monde. Mémoires d'un géographe politique», Laffont, 2021 ; «Atlas des mondes francophones», Lignes de repères, 2020 (Grand Prix du Rayonnement de la langue et de la littérature française de l'Académie française 2021).
Reviews
No reviews have been written for this book.