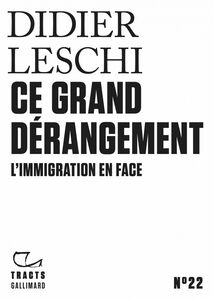 Tracts (N°22) - Ce grand dérangement
L'immigration en face
Didier Leschi
«Ce n'est pas trahir ses convictions humanistes que de faire le départ entre le réel et l'utopie ; ce n'est pas renoncer à ses idéaux que de prendre en compte ce qui est possible et ce qui ne l'est pas.» Didier Leschi
Il n'est pas de jour qu'un sinistre événement, une image bouleversante, une crise internationale ne nous le rappelle : la question du sort réservé aux migrants est cruciale. Il y a ceux pour qui la France devient une passoire exposée à l'invasion d'étrangers indésirables et qui veulent «suspendre l'immigration» ; et il y a ceux, moins nombreux, pour qui notre pays devient, comme l'Europe elle-même, une «forteresse», manquant à tout devoir d'humanité. C'est à ces deux tendances opposées que s'adresse tour à tour la présente mise au point de Didier Leschi, directeur de l'Office français de l'immigration et de l'intégration, en plaçant chacun devant la réalité des faits et des pratiques – sans pour autant mettre au même plan ce qui relève de la démagogie, et parfois de la haine de l'autre, et ce qui témoigne, à la manière du «Fratelli tutti» du pape François, d'une noblesse d'âme et d'un haut sentiment de la fraternité humaine.
Book details
Publisher

Language

Original language

Publication date

Page count

Theme

Collection

Series
About the author
Didier Leschi
Didier Leschi est directeur général de l'Office français de l'immigration et de l'intégration et président de l'Institut européen en sciences des religions (École pratique des hautes études). Il est l'auteur, avec Régis Debray, de «La Laïcité au quotidien» (Gallimard, 2016) et, en «Tracts de crise», de «La République des défunts» (avril 2020).
Reviews
No reviews have been written for this book.