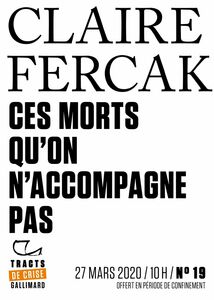 Tracts de Crise (N°19) - Ces morts qu'on n'accompagne pas
Claire Fercak
« Parmi nos proches à l'hôpital en ce moment, il y a ceux que nous reverrons à l'issue de la période de confinement, et ceux qui vont mourir durant le confinement. » Claire Fercak
Detalles de eBook
Editor

Original text

true

Idioma

Idioma official

Fecha de publicación

Contador de páginas

Colección

Series
Sobre el autor
Claire Fercak
Claire Fercak, née en 1982, vit et travaille à Paris. Elle est l'auteur d'une fiction sur le groupe de rock The Smashing Pumpkins, Tarantula Box Set (Le Mot et le reste, 2008) ; elle a co-écrit Chants magnétiques avec le chanteur Billy Corgan (Léo Scheer, 2010) ; elle écrit également pour la jeunesse. D'elle, les Éditions Gallimard ont publié Rideau de verre (Verticales, 2007; J'ai lu, 2010), Histoires naturelles de l'oubli (Verticales, 2015) et Ce qui est nommé reste en vie (Verticales, 2020).
Opiniones de clientes
No reviews have been written for this book.