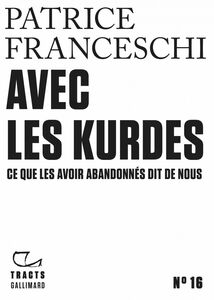 Tracts (N°16) - Avec les Kurdes. Ce que les avoir abandonnés dit de nous
Patrice Franceschi
"Nous n'aurions jamais dû quitter le Rojava. Cela signifie-t-il quelque chose sur ce que nous sommes devenus ? Sans aucun doute. L'histoire retiendra que ce 9 octobre 2019 nous avons commis une double faute, à la fois morale et politique." Patrice Franceschi.
À la suite du retrait de l'armée américaine, nos soldats ont reçu l'ordre de quitter le théâtre d'opérations syrien à l'automne 2019. Nous avons abandonné nos alliés kurdes aux visées expansionnistes et punitives d'Erdogan, au mépris de nos engagements à leur égard dans notre lutte commune contre Daech. Comment justifier une telle trahison, qui va à l'encontre de nos valeurs comme de nos intérêts ? Que dit-elle de notre civilisation ? Et quel prix sommes-nous vraiment prêts à payer pour notre liberté ? Telles sont les questions posées par Patrice Franceschi, compagnon de route et de combat du peuple kurde, familier des bataillons féminins qui l'incarnent et du projet d'État démocratique et laïque qui les porte. La tragédie a eu lieu ; il est temps d'en comprendre le sens, pour agir, et sans que nous sachions bien à quoi nous en tenir pour l'avenir.
Book details
Publisher

Language

Original language

Publication date

Page count

Theme

Collection

Series
About the author
Patrice Franceschi
Écrivain, aviateur et marin, Patrice Franceschi partage sa vie entre écriture et aventure. Ses romans, récits, poésies ou essais sont inséparables d'une existence engagée. il a reçu le prix Goncourt de la nouvelle en 2015.
Reviews
No reviews have been written for this book.