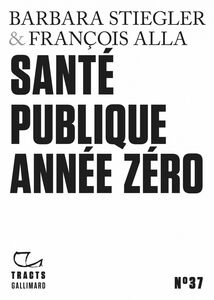 «Allons-nous enfin, dans un cadre républicain, affronter ensemble le bilan scientifique, éthique et politique de deux ans de crise sanitaire ?» Barbara Stiegler et François Alla
Le 17 mars 2020, le confinement était décrété sur tout le territoire national, ouvrant une longue période de suspension de la vie démocratique au nom du risque pandémique. Pour les deux auteurs de cet essai, philosophe et praticien de santé publique, cette opposition entre santé et liberté, imposée par un nouveau libéralisme autoritaire et contraire à l'esprit de la "Charte d'Ottawa pour la promotion de la santé" (1986), remettait en cause tous les acquis de notre histoire récente. Relevant de l'argument d'autorité et de l'erreur politique, elle a, parmi d'autres effets délétères, transformé le terrain de la santé publique en un grand champ de ruines. Revenir à cette faute matricielle, source de toutes les défaillances dans la gestion de la crise, c'est réaffirmer la centralité des déterminants sociaux et environnementaux de la santé publique, lesquels n'auraient jamais dû cesser d'inspirer et orienter les politiques, au nom même de l'intérêt général. Après De la démocratie en Pandémie de Barbara Stiegler (janvier 2021), ce Tract offre la première grande lecture critique des années Covid.
Book details
Publisher

Language

Original language

Publication date

Page count

Theme

Collection

Series
About the author
Barbara Stiegler
Barbara Stiegler est professeure de philosophie politique à l'Université Bordeaux Montaigne. Elle a publié, aux Éditions Gallimard, «"Il faut s'adapter". Sur un nouvel impératif politique» («NRF Essais», 2019) et, en Tracts/Gallimard, «De la démocratie en Pandémie» (2021) et «Santé publique année zéro» (2022).
François Alla
François Alla, praticien hospitalier, est professeur en santé publique.
Reviews
No reviews have been written for this book.